Learn why one-pagers are one of my go-to activities for breaking down complex topics and texts. Understand what they are, why you and your students will love them, and how to implement them in your ELA classroom. I even have the advice to help you tackle the biggest obstacle you'll encounter with this activity.
One-pagers have been gaining in popularity and relevance over the past few years. In the world of Tweets and captions, our students are used to digesting (and creating) bite-sized content. One-pagers are a great way to bring this concept into your classroom, encouraging your students to engage with literature in a fun, new way.
Read on for everything you need to know about these one-page wonders and how to implement them in your classroom.
Okay, But What Even is a One-Pager?
A one-pager hones in on a student's response to a text. How? As you might have guessed by the name, the response is limited to a single page. And I'm not talking about a written response, per se. Instead, one-pagers invite students to combine written and visual responses through a mix of anything from quotes and symbols to words and drawings.
In ELA, one-pagers are often used to interpret and analyze a theme or character development in a narrative text or the main idea of an informational text. Either way, this activity is all about helping students process a text thoughtfully. Students must engage in critical thought as they carefully select what goes on the one-pager.
Think of one-pagers as the highlight reel of a student's analysis. It might include what they deem to be the most important quotes, symbols, connections, questions, and analysis, among many other things.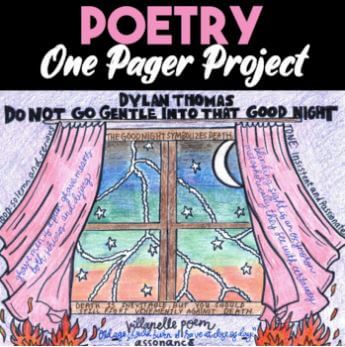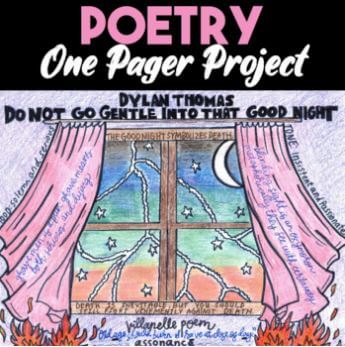 The Benefits of One-Pagers in the ELA Classroom
This activity is a colorful and visually appealing alternative to the traditional worksheets and written responses. However, that doesn't mean they don't require deep and critical thought. In fact, it's exactly the opposite. Due to the limited space on a one-pager, students are encouraged to sift through the fluff and choose to display what they deem most important. Therefore, one-pagers open the door for a different yet meaningful approach to reviewing, unpacking, and analyzing literature.
Additionally, I've found one-pagers to be a great way to check student understanding of a text. While some students get hung up on their anxieties or uncertainties, or (let's face it) laziness, associated with a more traditional piece of analytical writing, these one-pagers allow them the focus solely on their critical thinking. Instead of figuring out how to string sentences, let alone paragraphs, together, students take more of a collage approach to showcase their thought process.
Finally, research shows visual arts mixed with text can help students remember details. That's especially beneficial if you're doing this activity in conjunction with a larger project or assessment.
An added bonus? These one-pagers are fun to grade!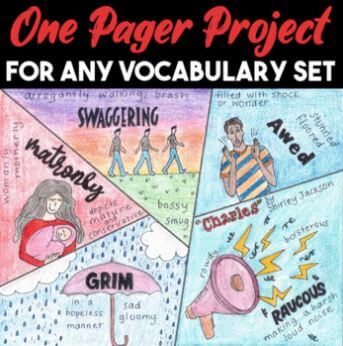 Avoid This Popular One-Pager Problem
The truth is, some students will resist the initial idea of the one-pager due to their perceived lack of creativity. I'm not artistic, they'll complain. But that's where it's important to remind students that this assignment is not about artistic ability. Sure, you can require that they use colors to make it pop, but remind students it's all about critical thinking. When I remind students that this activity is about their interpretation and analysis of the text, not the artwork, I always see a pair or two of tense shoulders loosen up.
Additionally, be sure to provide clear guidelines for your expectations and, ultimately, their success. These guidelines can help put struggling students at ease and, if you can, provide plenty of examples and templates to help students get started.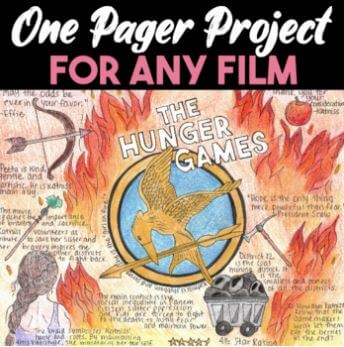 One-Pager Examples (English Language Arts)
I could go on and on about all the fun ways to incorporate one-pagers into the ELA classroom. But because I'm sure you have papers to grade or lessons to plan, I'll keep this to a few of my favorites.
Summer reading projects. If your students are assigned summer reading, have them share their book through a one-pager. Then, you can hang up the colorful projects around the room to give students a sense of belonging in the classroom. Talk about building a positive classroom culture!
Free choice reading projects. It can be difficult to assess students' free-choice reading. (Do you really want to read 25+ essays about 25+ different novels?) One-pagers are a great way to ask students to express the central theme, the main character, or the biggest takeaways from their novel. Then, let students share with the class or do a gallery walk, encouraging them to note any titles they might like to read next.
End-of-novel review: Preparing for a longer written assignment, project, or test? One-pagers are a perfect review activity, requiring students to dive back into the novel in an engaging way. Short on time? Simply tailor your guidelines so this assignment is assessment-worthy!
Literature circles. Incorporate one-pagers as a rotating "job" within the literature circle, or as an end-of-book project. Personally, I love using them when I have literature circles with a unifying theme. That way, each group creates a theme-based one-pager to share with the class. It's a great way to begin a whole-class discussion regarding the theme.
Diversifying and differentiating student responses. One-pagers are a great activity to throw in here and there in general. They're also a great option for students who struggle to express their thoughts in long-form writing assignments since the activity still requires students to interpret and make meaning of a text.
Creating Guidelines for Your One-Pager Activity
When it comes to one-pagers, guidelines can help struggling students find success and keep the most creative students' feet on the ground. However, you don't want to squash students' creativity by providing too strict of or too many guidelines. Ultimately, how you structure the guidelines is up to you.
Step one, however, should be to clearly define the purpose or goal of the one-pager to keep students focused. Then, I like to include a list of required elements as well as a list they can choose from. (I also require color, neatness, cohesivity, and neatness.)
For example, you may want to require the book title and author to be on the page. I might also require stand-out quotes and symbolic art that highlight the one-pagers purpose, such as a theme or character development.
Additionally, here are some other elements you might ask your students to include:
Essential ideas or theme
Major events and dates
Short analysis
Connections to self, other literature, or society.
A symbolic border
Important words
Original poems
Illustrations of character, setting, important scenes
Get techy with a character tweet or thematic hashtag
The options are endless! You'd be amazed at how creative students get and just how much they can squeeze on a single page.
Alternatively, you can provide students with templates. A straightforward template will help struggling students know exactly what kind of information or art to put where. Bye-bye writers block!
As for grading, there are so many existing rubrics for one-pagers online. All it takes is a simple Google search and print! Or, you can use them as inspiration as you create your own. Again, just be sure that you are not grading students on creativity, but instead, on things like their overall analysis and thought process.
Show Them Off!
Consider hanging up your students' one-pagers to offer a colorful POP to your walls! Besides, whether they admit it or not, students get all giddy when they see that their work is part of the classroom décor.
Imagine What Your Students Could Come Up With!
Showing examples of successful one-pagers (and ones that miss the mark) can help students understand your expectations for this assignment.
Now that you've read this post, you probably have an idea of how you can incorporate one-pagers into your classroom already, right?

Well, this is where it gets even more exciting.

One-pagers are perfect for any grade and– get this– any subject. With a few adjustments, you can incorporate one-pagers across the board. A one-pager on ancient Rome? The Revolutionary War? Industrial Revolution? For life and earth sciences? I mean, how fun!

So, be sure to share this idea with all your teacher friends!