Looking to harness the holiday cheer this year in your classroom? Here are 7 festive short stories to teach this holiday season. They're sure to make the days between Thanksgiving and Christmas break more enjoyable for you and your students alike.
'Tis the season for gifts and giving—including giving your students the gift of enjoying a festive short story or two!
I know the days between Thanksgiving and Christmas break seem to go by in the blink of an eye. Student energy is at an all-time high while motivation and focus can feel at an all-time low. Sometimes us teachers are just crossing our fingers that we make it from one day to the next. The truth is, trying to get students to focus on learning goals during the holiday season can feel like an impossible task.
But what if instead of battling against holiday cheer, we found a way to harness it in the classroom for the benefit of learning?
Read on for 7 festive short stories to teach this holiday season. Don't worry, I've highlighted some lesson ideas to help keep you on track with those learning goals, too. Just because these stories are festive doesn't mean there is a lack of teachable moments. As it turns out, you can celebrate the holidays in your classroom and keep the learning churning!
7 Festive Short Stories to Teach this Holiday Season
If you're thinking your kids are too old to be reading holiday stories, think again. Not only are these short stories (mostly) fun and festive reads, but they do more than bring on the holiday cheer. These stories align perfectly with the topics you're teaching all year round. From themes to literary elements, there are a lot of teachable moments in these stories.
1. "The Gift of the Magi" by O. Henry
I had to start the list with this classic (and highly popular) holiday short story. The story follows a young couple on Christmas Eve as they struggle against poverty while searching for the perfect gifts for one another. In the end, Jim and Della sell their most prized possessions in order to give each other a nice gift, highlighting the story's themes of sacrifice and love. Despite the story ending with both characters in near tears, it really is a lovely tale. Read "The Gift of the Magi" here to see what I mean.
Wondering what to teach? This short story is perfect for teaching theme and irony.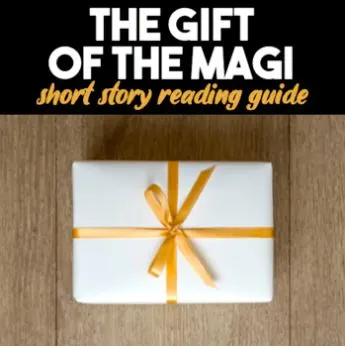 2. "The Little Match Girl" by Hans Christian Andersen
"The Little Match Girl" is another classic short story shared around the holiday season. Following a young impoverished Danish girl as she strives to sell matches in the streets on a cold winter night—to no avail. Afraid of going home to her father without a profit, the young girl stays in the dark streets, using her own matches to keep herself warm. With each match she lights, she is reminded of a comforting vision until she ultimately, albeit peacefully, succumbs to death. Despite being a much sadder story than many other classic holiday tales, there's a special beauty to be found between the lines. It's a great way to open conversation about the comfort we find in happy memories around the holidays and all year long.
Wondering what to teach? "The Little Match Girl" is full of powerful imagery and symbolism that is perfect for the secondary classroom. For example, students can unpack the contrasting darkness and light throughout the story.
Read "The Little Match Girl" online.
3. "Fish Cheeks" by Amy Tan
While this story might have less of a "holiday vibe" than many others on this list, it does take place on Christmas Eve. A beautiful work of short non-fiction, "Fish Cheeks" follows Tan's memory of having her teenage crush and his family join her family for a Christmas Eve dinner. However, the story itself is about much more than a childhood crush. Rather, it's a story about identity and struggling to find one's place in one culture without losing their ties to and appreciation for another. Overall, it's a short yet powerful piece to ignite discussions about the role of cultural traditions in one's identity.

Wondering what to teach? In addition to discussing the themes of culture and identity, students can pay close attention to how Tan's powerful diction and strong imagery create the story's tone.
4. "A Kidnapped Santa Claus" by L. Frank Baum
A Christmas story by the guy who wrote the Wizard of Oz? How fun, right? And trust me, it is. L. Frank Baum writes a clever story in which Santa Claus is kidnapped right from the seat of his sleigh by a group of Cave Daemons. Why? For the crime of making children happy, of course! While the story is rather silly and, at first glance, suited for a younger audience, it's a perfect chance to teach (or review) allegory. Middle-grade readers will surely find this short story entertaining during the holiday season.
Wondering what to teach? In addition to teaching allegory, this story is great for reviewing plot elements. It also makes for a fun compare and contrast discussion regarding similar holiday classics, like Dr. Seuss' How the Grinch Stole Christmas.
Read "A Kidnapped Santa Claus" here.
5. "Christmas is a Sad Season for the Poor" by John Cheever
Written in true Cheever fashion, this short story is sure to make your students think this holiday season. Right out of the gate, Cheever establishes a sense of self-pity and loneliness for this protagonist, Charlie. Working as an elevator operator in a luxurious apartment in New York's Upper East Side, Charlie spends much of Christmas day complaining about his loneliness to the building's tenants. Ironically, what first seems like a clash of the classes quickly becomes a rather charitable tale—or is it? By the story's penultimate line, readers are back to wondering what Cheever truly thinks about the season (errr.. day) of giving.
Wondering what to teach? There's so much to unpack! There's so much that can be discussed about theme and symbolism. However, I love using this story to discuss the author's purpose and message.
Psst… This short story serves as a perfect complimentary text for those who have taught (or plan to teach) F. Scott Fitzgerald's "Winter Dream" or The Great Gatsby.
Read Cheever's not-so-cheery Christmas tale here.
6. "A Christmas Memory" by Truman Capote
Rich with captivating descriptions, strong figurative language, and skillful characterization, Capote's autobiographical short story is a delight to teach during the holiday season. However, the story is much less about the holidays themselves than Capote's childhood memories from his time spent in Alabama and his relationship with his older cousin. As he moves through various Christmas memories from his time in the south, Capote paints a beautiful picture of the lasting impact his relationship with his cousin (who he refers to as "my friend" throughout) had on him.
Wondering what to teach? Capote's short story is the perfect mentor text for writing personal narratives. You can even have students write their own versions of a Christmas (or any holiday) memory. Additionally, you can use it to highlight instances of indirect and direct characterization.
Dive into Capote's Christmas memory here.
7. "A Visit from St. Nicholas" by Clement Clarke Moore
'Twas the night before Christmas and all through the house… your students are sure to know this one, even the classroom mouse. However, it's time to take a deeper look at this classic tale. While this Christmas classic is often viewed as a children's book, strip away the picture book illustrations, and you have a lovely poem. (Though, there's nothing wrong with sharing an illustrated version with your students. In fact, I recommend it!) As you read, examine this classic poem through a lens of literary analysis. Look for the various elements the author included throughout to stir up feelings and images in the minds of the readers, old and young alike.
While I highly recommend bringing in a classic kid's version of this short story. Pictures and all, you can find the poem online here.
Wondering what to teach? It's perfect for teaching imagery and poetic devices before asking students to write a festive poem of their own.
Even More Festive Short Stories to Teach this Holiday Season
Again, 'tis the season for giving! So, I'm giving you seven more titles of festive short stories to teach this holiday season:
8. "Christmas at Red Butte" by L. M. Montgomery
9. "The Burglar's Christmas" by Willa Cather
10. "Christmas Day in the Morning" by Pearl S. Puck
11. "A Criminal's Christmas" by Sherwood Anderson
12. "A Hint for Next Christmas " by A.A. Milne (Okay, so technically it's an essay, not a short story. But it makes for a great discussion about the validity of traditions and pairs well with Shirkey Jackson's "The Lottery.")
13. "The Gift" by Ray Bradbury
14. "Christmas Every Day" by William Dean Howells
Thanks to these festive short stories, you can keep the learning going while still spreading all the holiday vibes. Now, instead of dreading those days between Thanksgiving and Christmas break, I hope these stories give both you and your students something to look forward to.
Enjoy!